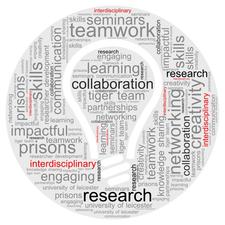 The Leicester Prisons Research Group has been established at the University of Leicester.
The aims of this group are to:
1) Undertake original, interdisciplinary research in secure settings (prisons and forensic psychiatric hospitals).
2) Develop effective, collaborative partnerships with practitioners including, but not limited to: academics; the police; youth justice groups; and the prison service, to ensure that there is genuine knowledge exchange, collaboration, and high-impact research.
3) Recruit, mentor and train a new generation of research leaders.
The aim is for this research group to be truly interdisciplinary and they are keen to involve academics across different Universities and disciplines. The group intends, amongst other things, to offer a programme of activities focusing on researcher development, knowledge exchange and the dissemination and discussion of emerging research findings. Ultimately, they hope that the events will encourage the development and strengthening of relationships between colleagues broadly interested in prisons research. All events are free. Registration details are provided below.
Thursday 1 March 2018, 6pm – 7pm
'HMP Berwyn: One Year On' with Russ Trent (Governor, HMP Berwyn) and Dr Kate Gooch (University of Leicester) Research Seminar
https://www.eventbrite.co.uk/e/research-seminar-hmp-berwyn-one-year-on-tickets-42923792218
Friday 2 March 2018, 12pm – 1pm
'Writing for a Change' skills seminar on writing productively and writing for impact with Professor Erika Rackley (University of Birmingham)
https://www.eventbrite.co.uk/e/skills-seminar-writing-for-a-change-tickets-42924287700
Thursday 22 March 2018, 6pm – 7pm
'Sound in Prisons' with Kate Herrity (University of Leicester) Research Seminar
https://www.eventbrite.co.uk/e/research-seminar-sound-in-prisons-with-kate-herrity-tickets-42924517387
Friday 23 March 2018, 9.30am – 3.30pm
'Young People in Custody' Knowledge Exchange Event, co-hosted with HM Inspector of Prisons
https://www.eventbrite.co.uk/e/knowledge-exchange-young-people-in-custody-tickets-43108840703
Thursday 26 April 2018, 6pm – 7pm
'The Pains of Long-Term Imprisonment' with Dr Ben Crewe (University of Cambridge) Research Seminar
https://www.eventbrite.co.uk/e/research-seminar-the-pains-of-long-term-imprisonment-tickets-42925461210
Thursday 10 May 2018, 6pm – 7pm
'Music in Prisons' with Sarah Doxat-Pratt (University of Leicester) Research Seminar
https://www.eventbrite.co.uk/e/research-seminar-music-in-prisons-with-sarah-doxat-pratt-tickets-43147042967
Tuesday 5th June 2018, 9.30am – 4.30pm
'IPP, Parole and Progression' Knowledge Exchange Event
https://www.eventbrite.co.uk/e/knowledge-exchange-ipp-parole-and-progression-with-hm-prison-service-and-parole-board-tickets-43145918604
Wednesday 27th June – Thursday 28th June 2018
 The 'Society of Captives' Today
To register, please see: www.le.ac.uk/society-of-captives